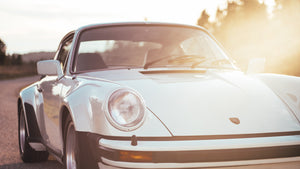 FALL 2022
ABOVE THE CLOUDS
OUR GENUINE PASSION FOR VINTAGE PORSCHES HAS BROUGHT US ON MANY DRIVING ADVENTURES OVER THE PAST 9 YEARS.

The above the clouds collection and its photography 
is the result of years of passion for driving and seeking the sun.
By Sacha PROST
911 Targas
This picture was taken during a raod trip with youtuber and friend MrJww in Switzerland by Sacha.
"We were just there hanging out, believe it or not this was not even staged we sort of just parked like that. After James had finished filming his sequence I took this picture walking back to the cars. I was glad this made the Petrolicious instagram later on. I thought it would make a nice t-shirt too!"