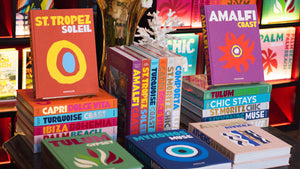 THE COLLABORATION
As a brand inspired by the golden age of motorsport, we recognise there is so much more to the extraordinary world of racing than iconic on-track battles, legendary cars, and unique personalities. Introduced to Formula 1 in the '70s, la dolce vita quickly became associated with motorsport, an enviable way of living fuelled not only by gasoline, but also by glamour.

At 8JS we try to include a little bit of the good life in everything we do, drawing inspiration not solely from motorsports, but also the lifestyle to which it belongs. We are extremely excited to have partnered with Assouline, creator of the world's finest coffee table books, to offer a carefully curated selection of our favourite editions which highlight our interests outside of the racetrack.
Discover the Impossible collection
THE CRAFTSMANSHIP
Assouline's Ultimate Collection is an homage to the art of luxury bookmaking. Hand-bound using traditional techniques, with color plates hand-tipped on art-quality paper, each page of this limited-edition series bears the unique imprint of the artisan. Treating a range of topics from jewelry and fashion, fine art and the 'Impossible Collections,' the Ultimate Collection curates culture from around the world and across the ages. Nestled in linen clamshell presentation cases, these books attract collectors, lovers of the printed page, and those who devour the culture of our time.
Signaling a new level of sophistication for true connoisseurs, these unique books are works of art in their own right.
MYKONOS MUSE
Located in the Cyclades and surrounded by the blue-green water of the Aegean sits whitewashed, windmill-strewn Mykonos, the island of the winds. This ancient island and those surrounding it, mythologized as the bodies of gods felled by Hercules in the time of antiquity, are older than legend and have played host to countless cultures for more than millennia. At forty-square-miles and boasting a population of only ten-thousand, the 'Ibiza of Greece' has become prized for gorgeous architecture, welcoming and open-minded locals, and fantastic beaches. With such names as 'Paradise' and 'Super Paradise,' the sands of these shores have captured the imaginations and hearts of industry titans, artists, and party-goers alike from all around the globe, marking it as a stable cosmopolitan destination and as a paramount it haven on the jet-set circuit.